Skip Navigation
Website Accessibility
Welcome to the Jones Service Department
The service and repair support you'll find at Jones is what really separates being a Jones customer from being just another face to a big box store.
We Repair All Brands of Vacuums and Sewing Machines


Jones Sew and Vac now has 8 certified vacuum and sewing machine technicians on staff to serve all of your repair, tune up, and maintenance needs.
Our expert service technicians will get your machine cleaned, fixed, and working like new in short order. Whether it's a simple belt change, a clogged filter or suction line, an electrical problem, or a fine tuning on a needle assembly, you can trust the pros at Jones to get the job done and done right the first time.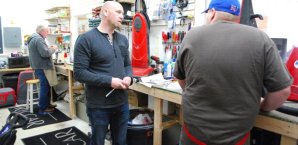 Jones Sew & Vac technicians are experts in vacuum and sewing machine service and repair. Come see us today.
When you work with Jones, you know we have your back whenever you need us. We'll always stand behind our products and our service, for as long as you own your machine.
For accessories and service for vacuums and sewing machines, all you need to know, is Jones.